Four Benefits of an International Internship in Ras al Khaimah
Having interned at the research department of the Al Qasimi Foundation in the autumn of 2018, I wanted to record the key things I took away from this experience to help both current students looking for summer internship opportunities abroad, and graduates who were in a similar situation as me after graduating from university.
The Foundation's headquarters situated on the Ras Al Khaimah mangroves makes for some spectacular scenic walks on your lunch break!
Over the course of my final year at the University of Cambridge, I had cultivated an interest for the Middle East through modules I took about the history, culture, and politics of the region, and upon my graduation I knew I wanted to satiate these interests in a more professional context. After a few hours of scouring the Internet for policy opportunities and think tanks in the Middle East, I was led to the Foundation's work. Listed as one of the leading think tanks in the Middle East and North Africa, I decided to pursue the internship program to professionalize my interest both in the Middle East and to help me prepare myself for a future career in policy.
Now having had that three months of experience behind me, I can confidently say that traveling to Ras Al Khaimah to work with the Al Qasimi Foundation was one of the best decisions I could have made as a recent graduate, both for my personal and professional development. Not only did I broaden my perspective and knowledge of policy areas, but I also gained insight into a completely different culture, which has in turn given me a global mindset: not the type you can get from reading a travel book at home.
Here are four key advantages to undertaking an internship in Ras Al Khaimah that you should consider:
1. I gained a global mindset and have improved my intercultural communication skills
Since completing my internship, I have learned that having a global mindset is highly valued by employers and a vast range of industries, including policy, business, public relations, and the arts. At each of the job interviews I attended after my time in Ras Al Khaimah, the first thing that is always commented on is my time and experiences in the UAE. This is because employers want to hire people who have a proven ability to think outside the box, who are open-minded, and are able to think on a global scale. After my time at the Foundation, I am able to tick all of those boxes.
During the first week of my internship, I was given the opportunity to attend a seminar on intercultural communication, which broadened my perspective of underlying cultural differences between the Gulf and the West, such as differing concepts of time and courtesy. Having been subsequently offered an internship within the Anglo-Omani Society based in London - a job that requires a high skill level in intercultural communication - I believe my success in getting this offer was due to the cultural comprehension I cultivated in Ras Al Khaimah.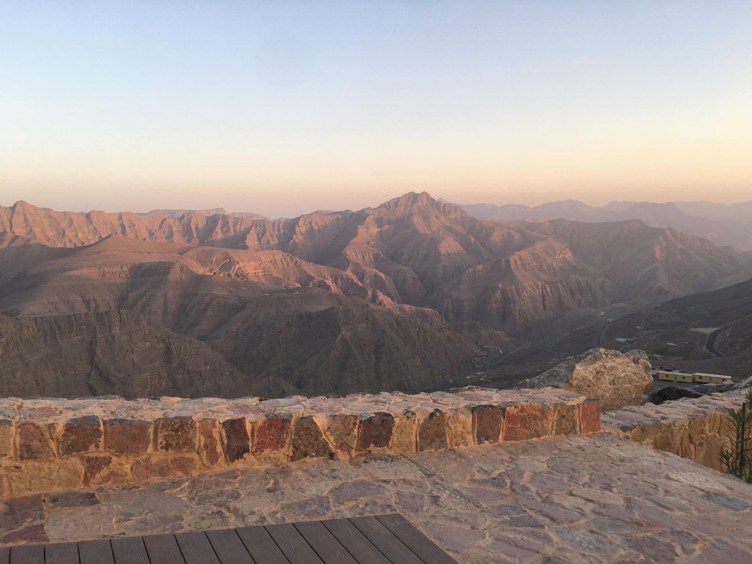 Some of the staff at the Foundation were kind enough to take me on an outing one weekend to Jebel Jais, the tallest mountain in the UAE and one of Ras Al Khaimah's many tourist attractions.
2. I was part of shaping the future development of the Emirates
I valued being tasked with salient policy-related work from the very beginning of my internship. Since the UAE is continually seeking to improve educational outcomes and to modernize educational practices, work at the Foundation on education policy and educational psychology felt especially relevant. It was exciting to work on projects directly relevant to the development of Ras Al Khaimah and the wider region whilst also travelling through these locations and learning about them first hand.
My key responsibility was to do background research on fatherhood in the Middle East as well as on childhood self-esteem and how this affects their education at school. I was also tasked with survey design to support the live research projects at the Foundation, and helped to coordinate a global symposium on parental involvement held in Dubai through identifying potential contacts and leading the call for papers.
Coming from a background in History and Politics, education policy was not a field in which I would have otherwise placed myself, or perhaps even attempted to explore. However, through this immersive experience it became clear to me very quickly that this area of study which I had not even considered before was something I could see myself working in in a future job, and the Foundation has instilled in me a new sense of drive to pursue a career in policy. I was pleased to know that the research I was engaging with would subsequently support the development of Ras Al Khaimah's approach to education, and help it reach the UAE's goal of becoming a leader in education by 2021.
3. I spent three months in a location where I could always find new experiences
Before embarking on my internship, my knowledge of the UAE was limited only to Dubai and Abu Dhabi, and so I was excited to be afforded the chance to explore the 'historic emirate' of Ras Al Khaimah and get a taste for some of the more traditional elements of the Arabian Gulf.
Every evening I could find a new thing to do, and I would often leave the office to go to the local beach or eat at authentic Emirati and Indian restaurants. I spent my weekends exploring new places and landscapes I was unfamiliar with, such as the remarkable Jebel Jais mountain range or ancient forts dotted around the desert fringes of the emirate.
Ras Al Khaimah is also home to many museums and heritage sites. I enjoyed gaining a deeper understanding and appreciation for the long history of the coastal emirate through examining the artefacts at the National Museum of Ras Al Khaimah, When I felt more adventurous, I would travel to Al Jazirat Al Hamra, the only authentic traditional coastal town still standing in the country , which today stands as a snapshot of what life was like before the UAE's economy was transformed by the discovery of oil.
For such a relatively small place in the grand scheme of things, I was impressed by how many new and exciting activities I was able to find every weekend. Ras Al Khaimah has made a considerable amount of effort in the last few years to make the emirate a major tourist destination in the Gulf, and this has certainly paid off. Work and play were definitely not things I struggled to balance by working at the Al Qasimi Foundation!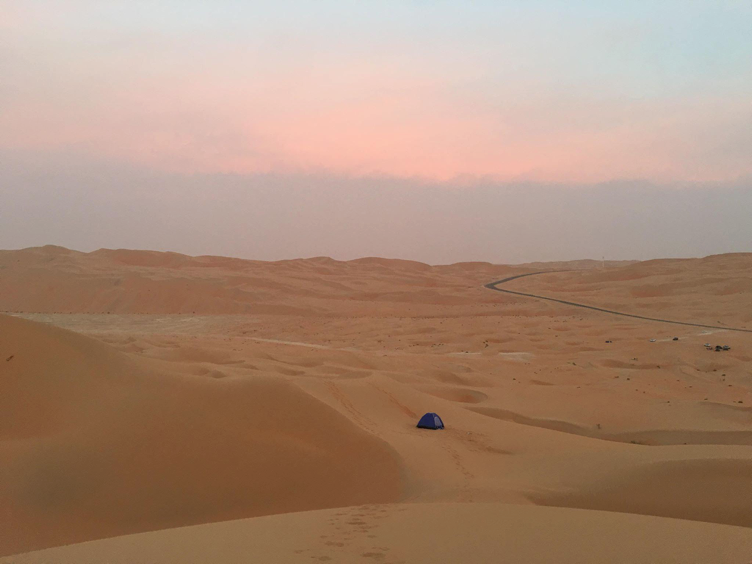 A picture from my camping weekend in the Empty Quarter in Abu Dhabi, one of the most unexplored landmasses of earth.
4. The Foundation offers an unparalleled diverse office environment
My cross-cultural experiences even extended to the office of the Foundation: the staff I worked alongside were testament to the UAE's diversity. On one occasion I sat for lunch with 12 of my colleagues, only to realize I was the only one representing Europe (collectively we represented five continents and 10 countries). In this respect, my internship has afforded me the opportunity to network globally by simply sitting in my office chair, and have made friends with people from all walks of life and different cultural backgrounds.
When reflecting on my internship I place this factor high when considering its overall benefits; I was exposed to many different worldviews, opinions, stories, and advice that I otherwise would never have had the pleasure to hear if I did not make that initial move to the Gulf. The importance and value of diversity can often go unnoticed when we don't make the personal effort to put ourselves in environments that seem different and unknown to us. Having now spent three months in such an environment, I can confidently say that the Al Qasimi Foundation's 'melting pot' office space has made it a richer, more hospitable, and vibrant place of work than I will ever expect to find elsewhere.
____________
Overall, my internship at the Al Qasimi Foundation was my first big step into the professional world, and it has aided me in countless ways. I now feel I have a lot of positive experiences and memories to share about Ras Al Khaimah and the people I met along the way, be it from working alongside a brilliant team of researchers or eating traditional Emirati cuisine with friends. Despite Ras Al Khaimah often being overlooked when we consider the UAE from a foreigner's perspective, I have come to realize that this emirate has so much to offer. As a location on the cutting edge of research and development into making the UAE a smarter, cleaner, and more prosperous country, I am proud to have worked with the Al Qasimi Foundation, which is leading that charge.